Guest Sailor
After entering the port you must search for free boat space.
All boat spaces have a marker visible from the water, with a red and a green side, see here:
If the red side is visible, you have to sail on, because the owner is away briefly, but will be back soon.
If it's the green side, there is space and you can dock and moor.
After mooring, look for the signs with the arrows, your guide to the ATM at the entry of the port office, Vestre Mole 2.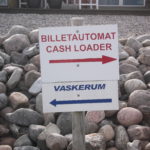 Here you purchase the ticket for the number of days / nights of your stay, and if you want to use the other facilities of the port, you also need to get a chip card. The cards have a security deposit of DKK 50, (€ 7 app.) -the deposit will be refunded when you return the card to the machine.
It is worth mentioning that when you purchase a card, an amount of money will be reserved – not withdrawn -from your account and when you return the card, the amount spent will be withdrawn – so you only pay for your use of the facilities.
The reservation will be upheld for 5 days, then the withdrawal will take place – during this period of time you can do your refund without using your credit card again – after the 5 days returned cards refunds will be done in cash.